NISSAN NP300 NAVARA PICK-UP RANGE
King Cab 2WD
Tough and highly dependable
Range from*
£19,696
View range
Arrange a demo
King Cab 4WD
The pickup for work and play
Range from*
£20,229
View range
Arrange a demo
Double Cab 4WD
Built for business
Range from*
£21,063
View range
Arrange a demo
Comfort and innovative technology
Available as a King Cab or a Double Cab, the all-new Nissan NP300 Navara has it all; a powerful and efficient engine, a strong chassis and an interior that offers the comfort and innovative technology seen on Nissan's Crossover range. A smart car for your leisure time or a tough working tool, the NP300 Navara is whatever you want it to be. In fact, we are so confident in the robustness and quality of the all-new NP300 Navara that we offer a 5-Year / 100,000 miles Manufacturer Warranty as standard.
The robust 2.3-litre 190PS twin turbo or 160PS single turbo diesel engine of the all-new NP300 Navara, proven over millions of miles, delivers the rugged performance and fantastic efficiency you demand from a pick-up truck, with fuel economy of up to 44.9mpg and CO? emissions from 167g/km.
5-year / 100,000 miles manufacturer warranty
Nissan now offers a standard 5-Year / 100,000 miles Pan-European Manufacturer Warranty for its LCV range. This is so much more than just a warranty. It includes:
5-Year / 100,000 miles bumper-to-bumper protection
5-Year Paintwork Warranty – covering the body paint
5-Year Nissan Genuine Parts and Accessories Warranty
5-Year Roadside Assistance – covering breakdowns, accidents, and non-warrantable incidents such as flat tyres, lost keys or use of the wrong fuel
12-Year Corrosion Warranty
It's also fully transferrable and with service intervals at 2 years or 25,000 miles, you'll also benefit from low running costs.
Class leading towing capacity for your toughest jobs
The all-new NP300 Navara pick-up truck is engineered to handle tough jobs, with a class-leading towing capacity of 3.5 tonnes and a payload of over one tonne.
Securing your cargo is easy, too, thanks to Nissan's innovative C-channel tie-down system. Movable cleats can be locked in special tracks on the sides and front of the pick-up bed, so you can safely secure any load, of any shape or size.
Video
The best features of the Nissan Navara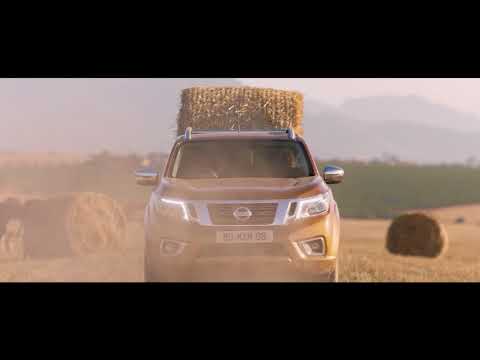 Aftersales