SEAT Leon 5dr

Using high quality materials, with a range of powerful but efficient engines and equipped with our latest technology, you'll wonder why all cars aren't engineered like the new five door Leon. After all, every detail has a higher purpose: YOUR ENJOYMENT.
Why compromise? With the Leon, you don't have to choose between your heart and your head. It's a practical family hatchback – but it's also stylish, precision-engineered and incredibly fun to drive. When you get behind the wheel, you'll know it's everything you've ever wanted in a car. With High Spec Technology on board, it's easy to find the best route, your favourite song and the perfect parking space.
SEAT Leon 5dr Videos
SEAT 6 Huskies And 300 Horses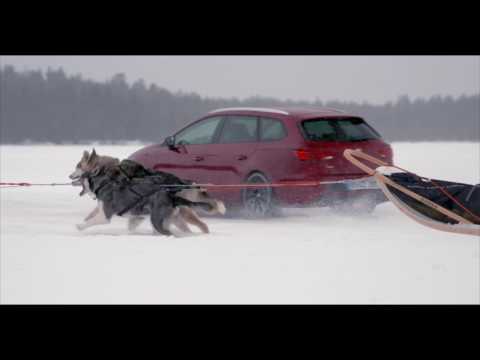 The New SEAT Leon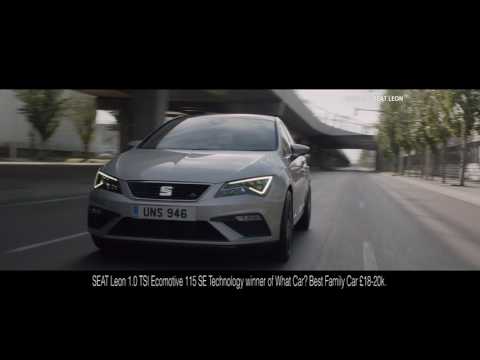 The new SEAT Leon CUPRA - Maximum performance, perfect fun to drive.
The SEAT Leon - SEAT Design Meets Technology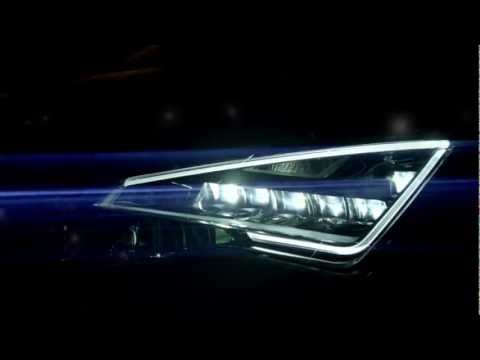 What Car? SEAT Award Winners 2018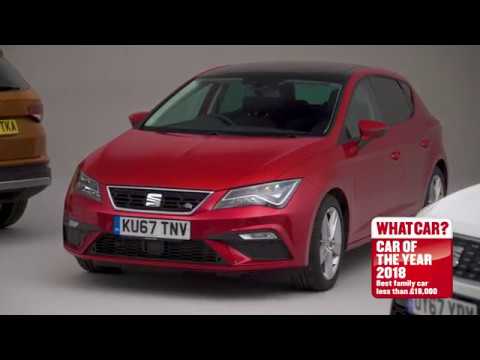 SEAT Leon 5dr Range & Pricelist
| | | | | |
| --- | --- | --- | --- | --- |
| Engine & Trim | CO2 Emissions g/km | Insurance Group | On The Road Price | |
| 1.0 TSI SE [EZ] 5dr Petrol | 105 | 13E | £18,875 | Model info |
| 1.5 TSI EVO SE Dynamic [EZ] 5dr Petrol | 110 | 14E | £20,040 | Model info |
| 1.6 TDI SE [EZ] 5dr Diesel | 100 | 13E | £20,105 | Model info |
| 1.6 TDI SE Dynamic [EZ] 5dr Diesel | 102 | 13E | £20,870 | Model info |
| 2.0 TDI 150 SE [EZ] 5dr Diesel | 113 | 19E | £21,600 | Model info |
| 1.5 TSI EVO FR [EZ] 5dr Petrol | 110 | 15E | £22,080 | Model info |
| 2.0 TDI 150 SE Dynamic [EZ] 5dr Diesel | 113 | 20E | £22,365 | Model info |
| 2.0 TDI 150 SE [EZ] 5dr DSG Diesel | 112 | 19E | £22,950 | Model info |
| 1.5 TSI EVO FR Black Edition [EZ] 5dr Petrol | 110 | 16E | £23,290 | Model info |
| 1.5 TSI EVO 150 FR [EZ] 5dr Petrol | 110 | 19E | £23,595 | Model info |
| 2.0 TDI 150 SE Dynamic [EZ] 5dr DSG Diesel | 112 | 20E | £23,715 | Model info |
| 1.5 TSI EVO Xcellence [EZ] 5dr Petrol | 110 | 16E | £24,770 | Model info |
| 1.5 TSI EVO 150 FR Black Edition [EZ] 5dr Petrol | 110 | 19E | £24,845 | Model info |
| 1.5 TSI EVO 150 FR [EZ] 5dr DSG Petrol | 114 | 19E | £24,985 | Model info |
| 1.5 TSI EVO 150 Xcellence [EZ] 5dr Petrol | 110 | 19E | £25,235 | Model info |
| 2.0 TDI 150 FR [EZ] 5dr Diesel | 113 | 21E | £25,535 | Model info |
| 1.5 TSI EVO Xcellence Lux [EZ] 5dr Petrol | 110 | 16E | £25,595 | Model info |
| 1.5 TSI EVO 150 Xcellence Lux [EZ] 5dr Petrol | 110 | 19E | £26,060 | Model info |
| 1.5 TSI EVO 150 Xcellence [EZ] 5dr DSG Petrol | 114 | 19E | £26,585 | Model info |
| 2.0 TDI 150 FR Black Edition [EZ] 5dr Diesel | 113 | 21E | £26,745 | Model info |
| 2.0 TDI 150 FR [EZ] 5dr DSG Diesel | 112 | 21E | £26,885 | Model info |
| 2.0 TDI 150 Xcellence [EZ] 5dr Diesel | 113 | 21E | £27,135 | Model info |
| 2.0 TDI 150 Xcellence Lux [EZ] 5dr Diesel | 113 | 21E | £27,960 | Model info |
| 2.0 TDI 150 FR Black Edition [EZ] 5dr DSG Diesel | 112 | 21E | £28,095 | Model info |
| 2.0 TDI 150 Xcellence [EZ] 5dr DSG Diesel | 112 | 21E | £28,485 | Model info |
| 2.0 TDI 150 Xcellence Lux [EZ] 5dr DSG Diesel | 112 | 21E | £29,310 | Model info |
| 2.0 TSI 290 Cupra [EZ] 5dr DSG Petrol | 149 | 32E | £31,480 | Model info |
| 2.0 TSI 290 Cupra Lux [EZ] 5dr DSG Petrol | 149 | 32E | £32,845 | Model info |
| 2.0 TSI Cupra 300 [EZ] 5dr DSG 4Drive Petrol | 161 | | £34,890 | Model info |
| 2.0 TSI Cupra 300 Lux [EZ] 5dr DSG 4Drive Petrol | 161 | | £36,255 | Model info |
| 2.0 TSI Cupra R 300 [EZ] 5dr DSG 4Drive Petrol | 161 | | £38,315 | Model info |
SEAT Branches
SEAT Aftersales