Nissan New Qashqai SUV

Intelligence is beautiful; and the smart, sophisticated redesign of the ultimate urban crossover proves it. The New Nissan Qashqai combines stunning looks with efficient aerodynamics, allowing you to enjoy city driving at its best.
Featuring a range of stunning style updates, including the bold V-Motion front grille, redesigned bonnet and luxurious new seats. Qashqai has never looked, or felt better. Nissan's Intelligent Driving systems transform the way you drive - bringing you and your car closer together for a more confident ride.* With Nissan's smart connectivity and your Premium Bose® Audio System, you can make every journey a pleasure.
Nissan New Qashqai SUV Videos
New Qashqai - The range of Accessories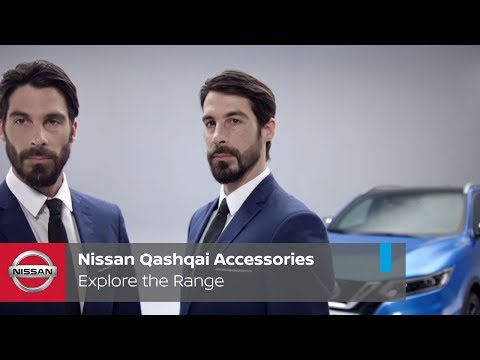 Nissan New Qashqai SUV Range & Pricelist
| | | | | |
| --- | --- | --- | --- | --- |
| Engine & Trim | CO2 Emissions g/km | Insurance Group | On The Road Price | |
| 1.3 DiG-T Visia 5dr Petrol | 121 | 17E | £20,000 | Model info |
| 1.3 DiG-T Visia [Smart Vision Pack] 5dr | 121 | 14E | £20,550 | Model info |
| 1.5 dCi Visia 5dr Diesel | 99 | 17E | £21,070 | Model info |
| 1.3 DiG-T Acenta 5dr Petrol | 121 | 14E | £21,695 | Model info |
| 1.5 dCi [115] Visia [Smart Vision Pack] 5dr | 100 | 14E | £22,150 | Model info |
| 1.3 DiG-T Acenta Premium 5dr Petrol | 121 | 15E | £22,900 | Model info |
| 1.3 DiG-T 160 Acenta 5dr Petrol | 121 | 18E | £23,195 | Model info |
| 1.5 dCi [115] Acenta 5dr Diesel | 100 | 15E | £23,395 | Model info |
| 1.5 dCi Acenta 5dr Diesel | 99 | 18E | £23,455 | Model info |
| 1.3 DiG-T 160 Acenta Premium 5dr Petrol | 121 | 18E | £24,000 | Model info |
| 1.5 dCi [115] Acenta Premium 5dr Diesel | 100 | 15E | £24,500 | Model info |
| 1.3 DiG-T N-Connecta 5dr Petrol | 130 | 15E | £24,600 | Model info |
| 1.3 DiG-T N-Connecta [Glass Roof Pack] 5dr | 130 | 15E | £25,050 | Model info |
| 1.3 DiG-T N-Motion 5dr Petrol | 130 | 15E | £25,350 | Model info |
| 1.3 DiG-T 160 Acenta Premium 5dr DCT Petrol | 122 | 18E | £25,450 | Model info |
| 1.3 DiG-T N-Connecta [Executive Pack] 5dr | 130 | 15E | £25,495 | Model info |
| 1.5 dCi N-Connecta 5dr Diesel | 99 | 18E | £25,580 | Model info |
| 1.3 DiG-T 160 N-Connecta 5dr Petrol | 130 | 19E | £25,700 | Model info |
| 1.3 DiG-T N-Connecta [Glass Roof/Executive] 5dr | 130 | 15E | £25,945 | Model info |
| 1.5 dCi [115] Acenta Premium 5dr DCT Diesel | 106 | 15E | £25,950 | Model info |
| 1.3 DiG-T 160 N-Connecta [Glass Roof Pack] 5dr | 130 | 19E | £26,150 | Model info |
| 1.5 dCi [115] N-Connecta 5dr Diesel | 110 | 14E | £26,200 | Model info |
| 1.3 DiG-T 160 N-Motion 5dr Petrol | 130 | 19E | £26,450 | Model info |
| 1.3 DiG-T 160 N-Connecta [Executive Pack] 5dr | 130 | 19E | £26,595 | Model info |
| 1.5 dCi [115] N-Connecta [Glass Roof Pack] 5dr Petrol | 110 | 14E | £26,650 | Model info |
| 1.3 DiG-T Tekna 5dr Petrol | 130 | 16E | £26,900 | Model info |
| 1.5 dCi [115] N-Motion 5dr Diesel | 110 | 16E | £26,950 | Model info |
| 1.3 DiG-T 160 N-Connecta [Glass Roof/Exec] 5dr Petrol | 130 | 19E | £27,045 | Model info |
| 1.5 dCi [115] N-Connecta [Executive Pack] 5dr | 110 | 14E | £27,095 | Model info |
| 1.3 DiG-T 160 N-Connecta 5dr DCT Petrol | 131 | 19E | £27,150 | Model info |
| 1.5 dCi [115] N-Connecta [Glass Roof/Exec] 5dr Diesel | 110 | 14E | £27,545 | Model info |
| 1.3 DiG-T 160 N-Connecta [Glass Roof Pack] 5dr DCT | 131 | 19E | £27,600 | Model info |
| 1.5 dCi [115] N-Connecta 5dr DCT Diesel | 112 | 14E | £27,650 | Model info |
| 1.7 dCi N-Connecta 5dr Diesel | 127 | 18E | £27,800 | Model info |
| 1.5 dCi Tekna 5dr Diesel | 99 | 19E | £27,805 | Model info |
| 1.3 DiG-T 160 N-Motion 5dr DCT | 131 | 19E | £27,900 | Model info |
| 1.3 DiG-T 160 Tekna 5dr Petrol | 130 | 20E | £28,000 | Model info |
| 1.3 DiG-T 160 N-Connecta [Executive Pack] 5dr DCT | 131 | 19E | £28,045 | Model info |
| 1.5 dCi [115] N-Connecta [Glass Roof Pack] 5dr DCT | 112 | 14E | £28,100 | Model info |
| 1.3 DiG-T Tekna+ 5dr Petrol | 130 | 16E | £28,100 | Model info |
| 1.7 dCi N-Connecta [Glass Roof Pack] 5dr Diesel | 127 | 18E | £28,250 | Model info |
| 1.5 dCi [115] N-Motion 5dr DCT Diesel | 112 | 14E | £28,400 | Model info |
| 1.3 DiG-T 160 N-Connecta [Glass Roof/Exec] 5dr DCT Petrol | 131 | 19E | £28,495 | Model info |
| 1.5 dCi [115] Tekna 5dr Diesel | 110 | 15E | £28,500 | Model info |
| 1.5 dCi [115] N-Connecta [Executive Pack] 5dr DCT | 112 | 14E | £28,545 | Model info |
| 1.7 dCi N-Motion 5dr Diesel | 127 | 19E | £28,550 | Model info |
| 1.7 dCi N-Connecta [Executive Pack] 5dr Diesel | 127 | 18E | £28,695 | Model info |
| 1.5 dCi [115] N-Connecta [Glass Roof/Exec] 5dr DCT Diesel | 112 | 14E | £28,995 | Model info |
| 1.7 dCi N-Connecta [Glass Roof/Exec] 5dr Diesel | 127 | 18E | £29,145 | Model info |
| 1.3 DiG-T 160 Tekna+ 5dr Petrol | 130 | 20E | £29,200 | Model info |
| 1.3 DiG-T 160 Tekna 5dr DCT Petrol | 131 | 20E | £29,450 | Model info |
| 1.7 dCi N-Connecta 5dr 4WD Diesel | 138 | 18E | £29,510 | Model info |
| 1.5 dCi Tekna+ 5dr Diesel | 99 | 19E | £29,605 | Model info |
| 1.5 dCi [115] Tekna+ 5dr Diesel | 110 | 15E | £29,700 | Model info |
| 1.5 dCi [115] Tekna 5dr DCT Diesel | 112 | 15E | £29,950 | Model info |
| 1.7 dCi N-Connecta [Glass Roof Pack] 5dr 4WD Diesel | 138 | 18E | £29,960 | Model info |
| 1.7 dCi Tekna 5dr Diesel | 127 | 19E | £30,100 | Model info |
| 1.7 dCi N-Connecta [Executive Pack] 5dr 4WD Diesel | 138 | 18E | £30,405 | Model info |
| 1.3 DiG-T 160 Tekna+ 5dr DCT Petrol | 131 | 20E | £30,650 | Model info |
| 1.7 dCi N-Connecta [Glass Roof/Exec] 5dr 4WD Diesel | 138 | 18E | £30,855 | Model info |
| 1.7 dCi N-Connecta 5dr 4WD CVT Diesel | 154 | 18E | £30,970 | Model info |
| 1.5 dCi [115] Tekna+ 5dr DCT Diesel | 112 | 15E | £31,150 | Model info |
| 1.7 dCi Tekna+ 5dr Diesel | 127 | 20E | £31,300 | Model info |
| 1.7 dCi N-Connecta [Glass Roof Pack] 5dr 4WD CVT Diesel | 154 | 18E | £31,420 | Model info |
| 1.7 dCi Tekna 5dr 4WD Diesel | 138 | 19E | £31,810 | Model info |
| 1.7 dCi N-Connecta [Executive Pack] 5dr 4WD CVT Diesel | 154 | 18E | £31,865 | Model info |
| 1.7 dCi N-Connecta [Glass Roof/Exec] 5dr 4WD CVT Diesel | 154 | 18E | £32,315 | Model info |
| 1.7 dCi Tekna+ 5dr 4WD Diesel | 138 | 19E | £33,010 | Model info |
| 1.7 dCi Tekna 5dr 4WD CVT Diesel | 154 | 19E | £33,270 | Model info |
| 1.7 dCi Tekna+ 5dr 4WD CVT Diesel | 154 | 19E | £34,470 | Model info |
Nearly New Nissan New Qashqai SUV Cars
Used Nissan New Qashqai SUV Cars
Nissan Branches
Nissan Aftersales