Nissan New Micra Hatchback

With its daring design, sleek exterior, class-leading technology and outstanding driving agility, the Micra Gen5, fifth generation of its kind, stands out to offer you a driving experience unlike any other. From its sporty lines and proportions to its inspiring interior, the All New Nissan Micra embodies iconic and expressive design.
Featuring 6 speakers with 2 embedded in the driver's headrest, the all new Bose audio system brings 360° personal listening to the drivers seat: an all New Nissan Micra exclusive. All New Nissan Micra's class-leading technologies turn each ride into a stimulating journey.
Nissan New Micra Hatchback Videos
N-Sport: Agile. Tech. Style.
Nissan Micra N-Sport: With Apple CarPlay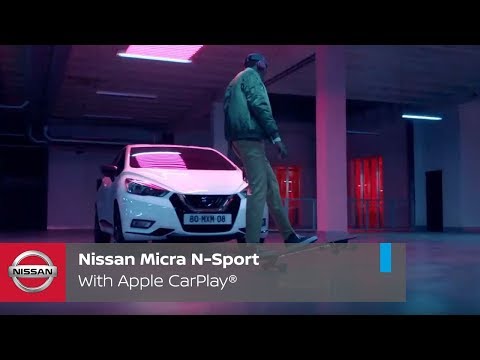 Are you an explorer?
Are you audacious?
Are you mysterious?
Are you a performer?
Nissan Micra Bose Personal audio system
Nissan Design Studio
The All-New Nissan Micra: Intelligent Around-View Monitor
The All-New Nissan Micra: Intelligent Trace Control
The All-New Nissan Micra: Intelligent Ride control
The All-New Nissan Micra: Intelligent Lane intervention
The All-New Nissan Micra: Intelligent Emergency Braking
Nissan New Micra Hatchback Range & Pricelist
| | | | | |
| --- | --- | --- | --- | --- |
| Engine & Trim | CO2 Emissions g/km | Insurance Group | On The Road Price | |
| 1.0 Visia 5dr Petrol | 103 | 1E | £12,750 | Model info |
| 1.0 IG 71 Visia 5dr Petrol | 121 | 1E | £12,880 | Model info |
| 1.0 Acenta Limited Edition 5dr Petrol | 103 | 1E | £13,450 | Model info |
| 1.0 Visia+ 5dr Petrol | 103 | 1E | £13,700 | Model info |
| 1.0 IG 71 Visia+ 5dr Petrol | 121 | 1E | £13,830 | Model info |
| 1.0 IG 71 Acenta Limited Edition 5dr Petrol | 121 | 1E | £14,100 | Model info |
| 0.9 IG-T Visia+ 5dr Petrol | 118 | 5E | £14,720 | Model info |
| 1.0 Acenta 5dr Petrol | 103 | 1E | £14,900 | Model info |
| 1.0 IG-T 100 Visia+ 5dr Petrol | 103 | 8E | £14,970 | Model info |
| 0.9 IG-T Acenta Limited Edition 5dr Petrol | 118 | 6E | £14,990 | Model info |
| 1.0 IG 71 Acenta 5dr Petrol | 121 | 1E | £15,100 | Model info |
| 1.0 IG-T 100 Acenta Limited Edition 5dr Petrol | 104 | 8E | £15,240 | Model info |
| 1.5 dCi Visia 5dr Diesel | 121 | 8E | £15,305 | Model info |
| 1.0 IG 71 Acenta 5dr [Bose] | 121 | 1E | £15,600 | Model info |
| 1.0 IG 71 Acenta 5dr [Vision Pack] | 121 | 1E | £15,870 | Model info |
| 0.9 IG-T Acenta 5dr Petrol | 118 | 5E | £15,990 | Model info |
| 1.5 dCi Visia+ 5dr Diesel | 107 | 7E | £16,215 | Model info |
| 1.0 IG-T 100 Visia+ 5dr Xtronic Petrol | 112 | 8E | £16,220 | Model info |
| 1.0 IG-T 100 Acenta 5dr Petrol | 104 | 8E | £16,240 | Model info |
| 1.0 IG 71 Acenta 5dr [Bose/Vision Pack] | 121 | 1E | £16,370 | Model info |
| 1.0 IG 71 Acenta 5dr [Exterior+ Pack] | 121 | 1E | £16,475 | Model info |
| 1.0 IG-T 100 Acenta Limited Edition 5dr Xtronic Petrol | 113 | 8E | £16,490 | Model info |
| 0.9 IG-T Acenta 5dr [Bose] | 118 | 5E | £16,490 | Model info |
| 1.0 IG-T 100 Acenta 5dr [Bose] | 104 | 8E | £16,740 | Model info |
| 0.9 IG-T Acenta 5dr [Vision Pack] | 118 | 5E | £16,760 | Model info |
| 1.0 IG 71 Acenta 5dr [Bose/Exterior+ Pack] | 121 | 1E | £16,975 | Model info |
| 1.0 IG-T 100 Acenta 5dr [Vision Pack] | 104 | 8E | £17,010 | Model info |
| 0.9 IG-T N-Connecta 5dr Petrol | 118 | 5E | £17,215 | Model info |
| 1.0 IG 71 Acenta 5dr [Vision/Exterior+ Pack] | 121 | 1E | £17,245 | Model info |
| 0.9 IG-T Acenta 5dr [Bose/Vision Pack] | 118 | 5E | £17,260 | Model info |
| 0.9 IG-T Acenta 5dr [Exterior+ Pack] | 118 | 5E | £17,365 | Model info |
| 1.0 IG-T 100 N-Connecta 5dr Petrol | 104 | 8E | £17,465 | Model info |
| 1.5 dCi Acenta 5dr Diesel | 107 | 7E | £17,485 | Model info |
| 1.0 IG-T 100 Acenta 5dr Xtronic Petrol | 112 | 8E | £17,490 | Model info |
| 1.0 IG-T 100 Acenta 5dr [Vision/Bose] | 104 | 8E | £17,510 | Model info |
| 1.0 IG-T 100 Acenta 5dr [Exterior+ Pack] | 105 | 8E | £17,615 | Model info |
| 0.9 IG-T N-Connecta 5dr [Bose] | 118 | 5E | £17,715 | Model info |
| 1.0 IG 71 Acenta 5dr [Bose/Vision/Exterior+ Pack] | 121 | 1E | £17,745 | Model info |
| 0.9 IG-T N-Connecta 5dr [Vision+ Pack] | 118 | 5E | £17,815 | Model info |
| 0.9 IG-T Acenta 5dr [Bose/Exterior+ Pack] | 118 | 5E | £17,865 | Model info |
| 1.0 IG-T 100 N-Sport 5dr Petrol | 104 | 8E | £17,940 | Model info |
| 1.0 IG-T 100 N-Connecta 5dr [Bose] | 104 | 8E | £17,965 | Model info |
| 1.5 dCi Acenta 5dr [Bose] | 107 | 7E | £17,985 | Model info |
| 1.0 IG-T 100 Acenta 5dr Xtronic [Bose] | 112 | 8E | £17,990 | Model info |
| 1.0 IG-T 100 N-Connecta 5dr [Vision+ Pack] | 104 | 8E | £18,065 | Model info |
| 1.0 IG-T 100 Acenta 5dr [Bose/Exterior+ Pack] | 105 | 8E | £18,115 | Model info |
| 0.9 IG-T Acenta 5dr [Vision/Exterior+ Pack] | 118 | 3E | £18,135 | Model info |
| 1.5 dCi Acenta 5dr [Vision Pack] | 107 | 7E | £18,255 | Model info |
| 1.0 IG-T 100 Acenta 5dr Xtronic [Vision Pack] | 112 | 8E | £18,260 | Model info |
| 0.9 IG-T N-Connecta 5dr [Bose/Vision+ Pack] | 118 | 5E | £18,315 | Model info |
| 1.0 IG-T 100 Acenta 5dr [Vision/Ext+ Pk] | 105 | 8E | £18,385 | Model info |
| 0.9 IG-T Tekna 5dr Petrol | 118 | 6E | £18,535 | Model info |
| 1.0 IG-T 100 N-Connecta 5dr [Vision+/Bose] | 104 | 8E | £18,565 | Model info |
| 0.9 IG-T N-Connecta 5dr [Exterior+ Pack] | 118 | 5E | £18,590 | Model info |
| 0.9 IG-T Acenta 5dr [Bose/Vision/Exterior+ Pack] | 118 | 3E | £18,635 | Model info |
| 1.5 dCi N-Connecta 5dr Diesel | 107 | 8E | £18,710 | Model info |
| 1.0 IG-T 100 N-Connecta 5dr Xtronic Petrol | 112 | 8E | £18,715 | Model info |
| 1.5 dCi Acenta 5dr [Bose/Vision Pack] | 107 | 7E | £18,755 | Model info |
| 1.0 IG-T 100 Acenta 5dr Xtronic [Vision/Bose] | 112 | 8E | £18,760 | Model info |
| 1.0 IG-T 100 Tekna 5dr Petrol | 105 | 9E | £18,765 | Model info |
| 1.0 IG-T 100 N-Connecta 5dr [Exterior+ Pack] | 105 | 8E | £18,840 | Model info |
| 1.5 dCi Acenta 5dr [Exterior+ Pack] | 107 | 7E | £18,860 | Model info |
| 1.0 IG-T 100 Acenta 5dr Xtronic [Exterior+ Pack] | 112 | 8E | £18,865 | Model info |
| 1.0 IG-T 100 Acenta 5dr [Vision/Bose/Ext+ Pk] | 105 | 8E | £18,885 | Model info |
| 1.0 DIG-T 117 N-Sport 5dr Petrol | 114 | 11E | £19,010 | Model info |
| 0.9 IG-T N-Connecta 5dr [Bose/Exterior+ Pack] | 118 | 5E | £19,090 | Model info |
| 0.9 IG-T Tekna 5dr [Vision+ Pack] | 118 | 6E | £19,135 | Model info |
| 0.9 IG-T N-Connecta 5dr [Vision+/Exterior+ Pack] | 118 | 5E | £19,190 | Model info |
| 1.0 IG-T 100 N-Sport 5dr Xtronic Petrol | 112 | 8E | £19,190 | Model info |
| 1.5 dCi N-Connecta 5dr [Bose Pack] | 107 | 8E | £19,210 | Model info |
| 1.0 IG-T 100 N-Connecta 5dr Xtronic [Bose] | 112 | 8E | £19,215 | Model info |
| 0.9 IG-T Bose Personal Edition 5dr Petrol | 104 | 7E | £19,290 | Model info |
| 1.5 dCi N-Connecta 5dr [Vision+ Pack] | 107 | 8E | £19,310 | Model info |
| 1.0 IG-T 100 N-Connecta 5dr Xtronic [Vision+ Pack] | 112 | 8E | £19,315 | Model info |
| 1.0 IG-T 100 N-Connecta 5dr [Bose/Exterior+ Pack] | 105 | 8E | £19,340 | Model info |
| 1.5 dCi Acenta 5dr [Bose/Exterior+ Pack] | 107 | 7E | £19,360 | Model info |
| 1.0 IG-T 100 Acenta 5dr Xtronic [Bose/Exter+ Pk] | 112 | 8E | £19,365 | Model info |
| 1.0 IG-T 100 Tekna 5dr [Vision+ Pack] | 105 | 9E | £19,365 | Model info |
| 1.0 IG-T 100 N-Connecta 5dr [Vision+/Ext+ Pk] | 105 | 8E | £19,440 | Model info |
| 0.9 IG-T Tekna 5dr [Leather] | 118 | 6E | £19,585 | Model info |
| 1.5 dCi Acenta 5dr [Vision/Exterior+ Pack] | 107 | 7E | £19,630 | Model info |
| 1.0 IG-T 100 Acenta 5dr Xtronic [Vision/Ext+ Pk] | 112 | 8E | £19,635 | Model info |
| 0.9 IG-T Tekna 5dr [Exterior+ Pack] | 118 | 6E | £19,660 | Model info |
| 0.9 IG-T N-Connecta 5dr [Bose/Vision+/Exterior+] | 118 | 4E | £19,690 | Model info |
| 1.5 dCi N-Connecta 5dr [Bose/Vision+ Pack] | 107 | 8E | £19,810 | Model info |
| 1.0 IG-T 100 Tekna 5dr [Leather] | 105 | 9E | £19,815 | Model info |
| 1.0 IG-T 100 N-Connecta 5dr Xtronic [Vision+/Bose] | 112 | 8E | £19,815 | Model info |
| 1.0 IG-T 100 Tekna 5dr [Exterior+ Pack] | 105 | 9E | £19,890 | Model info |
| 1.0 IG-T 100 N-Connecta 5dr [Vision+/Bose/Ext+ Pk] | 105 | 8E | £19,940 | Model info |
| 1.5 dCi Tekna 5dr Diesel | 107 | 8E | £20,010 | Model info |
| 1.0 IG-T 100 Tekna 5dr Xtronic Petrol | 112 | 9E | £20,015 | Model info |
| 1.5 dCi N-Connecta 5dr [Exterior+ Pack] | 107 | 8E | £20,085 | Model info |
| 1.0 IG-T 100 N-Connecta 5dr Xtronic [Exterior+ Pk] | 112 | 8E | £20,090 | Model info |
| 1.5 dCi Acenta 5dr [Bose/Vision/Exterior+ Pack] | 107 | 7E | £20,130 | Model info |
| 1.0 IG-T 100 Acenta 5dr Xtronic [Vision/Ext+ Bose] | 0 | | £20,135 | Model info |
| 0.9 IG-T Tekna 5dr [Leather/Vision+ Pack] | 118 | 6E | £20,185 | Model info |
| 0.9 IG-T Tekna 5dr [Vision+/Exterior+ Pack] | 118 | 6E | £20,260 | Model info |
| 1.0 IG-T 100 Tekna 5dr [Vision+/Leather] | 105 | 9E | £20,415 | Model info |
| 1.0 IG-T 100 Tekna 5dr [Vision+/Exterior+ Pack] | 105 | 9E | £20,490 | Model info |
| 1.5 dCi N-Connecta 5dr [Bose/Exterior+ Pack] | 107 | 8E | £20,585 | Model info |
| 1.0 IG-T 100 N-Connecta 5dr Xtronic [Bose/Ext+ Pk] | 112 | 8E | £20,590 | Model info |
| 1.5 dCi Tekna 5dr [Vision+ Pack] | 107 | 8E | £20,610 | Model info |
| 1.0 IG-T 100 Tekna 5dr Xtronic [Vision+ Pack] | 112 | 9E | £20,615 | Model info |
| 1.5 dCi N-Connecta 5dr [Vision+/Exterior+ Pack] | 107 | 8E | £20,685 | Model info |
| 1.0 IG-T 100 N-Connecta 5dr Xtronic [Vis+/Ext+ Pk] | 112 | 8E | £20,690 | Model info |
| 0.9 IG-T Tekna 5dr [Leather/Exterior+ Pack] | 118 | 6E | £20,710 | Model info |
| 1.5 dCi Bose Personal Edition 5dr Diesel | 92 | 9E | £20,740 | Model info |
| 1.0 IG-T 100 Tekna 5dr [Ext+ Pack/Leather] | 105 | 9E | £20,940 | Model info |
| 1.0 IG-T 100 Tekna 5dr Xtronic [Leather] | 112 | 9E | £21,065 | Model info |
| 1.5 dCi Tekna 5dr [Exterior+ Pack] | 107 | 8E | £21,135 | Model info |
| 1.0 IG-T 100 Tekna 5dr Xtronic [Exterior+ Pack] | 112 | 9E | £21,140 | Model info |
| 1.5 dCi N-Connecta 5dr [Bose/Vision+/Exterior+] | 107 | 8E | £21,185 | Model info |
| 1.0 IG-T 100 N-Connecta 5dr Xtronic Vis+/Bose/Ext+ Petrol | 112 | 8E | £21,190 | Model info |
| 0.9 IG-T Tekna 5dr [Leather/Vision+/Exterior+] | 118 | 4E | £21,310 | Model info |
| 1.0 IG-T 100 Tekna 5dr [Vision+/Ext+Pk/Leather] | 105 | 9E | £21,540 | Model info |
| 1.0 DIG-T 117 Tekna 5dr [Vision+/Exterior+ Pack] | 114 | 11E | £21,560 | Model info |
| 1.0 IG-T 100 Tekna 5dr Xtronic [Vision+/Leather] | 112 | 9E | £21,665 | Model info |
| 1.5 dCi Tekna 5dr [Vision+/Exterior+ Pack] | 107 | 8E | £21,735 | Model info |
| 1.0 IG-T 100 Tekna 5dr Xtronic [Vision+/Ext+ Pack | 112 | 9E | £21,740 | Model info |
| 1.0 IG-T 100 Tekna 5dr Xtronic [Ext+ Pack/Leather] | 112 | 9E | £22,190 | Model info |
| 1.0 IG-T 100 Tekna 5dr Xtronic [Vis+/Ext+/Leather] | 112 | 9E | £22,790 | Model info |
Nearly New Nissan New Micra Hatchback Cars
Used Nissan New Micra Hatchback Cars
Nissan Branches
Nissan Aftersales