Alfa Romeo New Stelvio

Since its foundation Alfa Romeo has created models capable of changing the way we drive: unique masterpieces of design and engineering that continue to be admired. Today the Brand sets a new milestone, with over 106 years of history, Stelvio is here to meet the highest expectations.
Can an SUV evoke the same emotions as a true performance car? Stelvio was created to answer that genuine question. Combining a commanding driving position with low centre of gravity is an exclusive. The feelings you get at the wheel of Stelvio are an absolute breakthrough in the world of Sport Utility Vehicles.
Alfa Romeo New Stelvio Videos
What Car? Awards 2019 Stevlio Quadrifoglio Review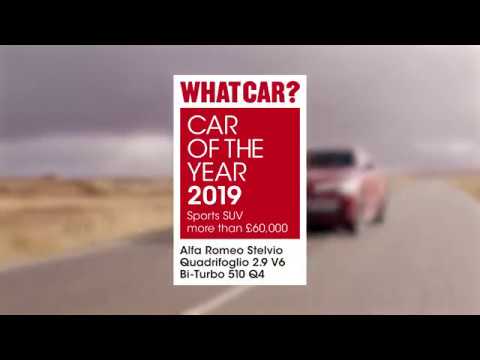 Giulia and Stelvio NRING Limited Editions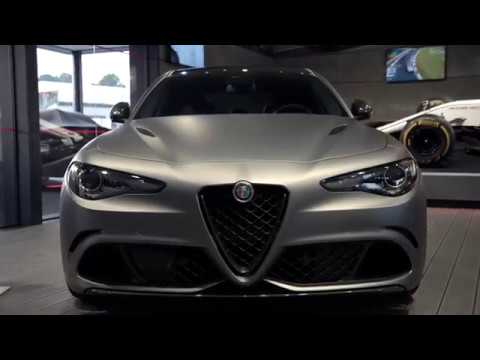 Alfa Romeo New Stelvio Range & Pricelist
| | | | | |
| --- | --- | --- | --- | --- |
| Engine & Trim | CO2 Emissions g/km | Insurance Group | On The Road Price | |
| 2.2 D 180 5dr Auto RWD Diesel | 124 | 29D | £34,035 | Model info |
| 2.0 Turbo 200 5dr Auto Petrol | 161 | 30D | £34,705 | Model info |
| 2.2 D 180 Super 5dr Auto RWD Diesel | 124 | 30D | £36,235 | Model info |
| 2.2 D 180 Super 5dr Auto Diesel | 127 | 30D | £37,690 | Model info |
| 2.2 D 210 Super 5dr Auto Diesel | 127 | 31D | £38,540 | Model info |
| 2.0 Turbo 280 Super 5dr Auto Petrol | 176 | 30D | £39,480 | Model info |
| 2.2 D 190 Super 5dr Auto RWD Diesel | 138 | 29D | £39,620 | Model info |
| 2.2 D 190 Super [Xenon] 5dr Auto Diesel | 138 | 30D | £39,620 | Model info |
| 2.2 D 190 Super 5dr Auto Diesel | 147 | 30D | £40,285 | Model info |
| 2.0 Turbo 200 Super [Xenon] 5dr Auto Petrol | 160 | 31D | £41,255 | Model info |
| 2.2 D 190 Super 5dr Auto RWD [Lusso] Diesel | 138 | 29D | £41,455 | Model info |
| 2.2 D 190 Super [Xenon] 5dr Auto [DAP+] Diesel | 138 | 30D | £41,495 | Model info |
| 2.2 D 180 Speciale 5dr Auto Diesel | 127 | 31D | £41,535 | Model info |
| 2.0 Turbo 200 Super 5dr Auto [Lusso] Petrol | 176 | 30D | £42,665 | Model info |
| 2.0 Turbo 200 Super [Xenon] 5dr Auto [DAP+] Petrol | 160 | 31D | £43,145 | Model info |
| 2.2 D 190 Super 5dr Auto [Lusso] Diesel | 147 | 30D | £43,655 | Model info |
| 2.0 Turbo 200 Sprint 5dr Auto Petrol | 160 | 31D | £44,085 | Model info |
| 2.2 D 190 Sprint 5dr Auto Diesel | 146 | 31D | £44,510 | Model info |
| 2.2 D 210 Speciale 5dr Auto Diesel | 147 | 33D | £44,870 | Model info |
| 2.0 Turbo 200 Sprint 5dr Auto [DAP+] Petrol | 160 | 31D | £45,795 | Model info |
| 2.2 D 190 Sprint 5dr Auto [DAP+] Diesel | 146 | 31D | £46,345 | Model info |
| 2.0 Turbo 280 Speciale 5dr Auto Petrol | 175 | 36D | £46,480 | Model info |
| 2.0 Turbo 200 Lusso Ti 5dr Auto Petrol | 160 | 32D | £46,795 | Model info |
| 2.2 D 210 Milano Edizione 5dr Auto Diesel | 149 | 33D | £46,805 | Model info |
| 2.2 D 190 Lusso Ti 5dr Auto Diesel | 146 | 32D | £47,005 | Model info |
| 2.0 Turbo 200 Lusso Ti 5dr Auto [DAP+] Petrol | 160 | 32D | £48,295 | Model info |
| 2.2 D 190 Lusso Ti 5dr Auto [DAP+] Diesel | 146 | 32D | £48,845 | Model info |
| 2.2 D 210 Veloce 5dr Auto Diesel | 146 | 34D | £49,510 | Model info |
| 2.0 Turbo 280 Veloce 5dr Auto Petrol | 158 | 36D | £49,535 | Model info |
| 2.2 D 210 Veloce 5dr Auto [DAP+] Diesel | 146 | 34D | £50,505 | Model info |
| 2.0 Turbo 280 Veloce 5dr Auto [DAP+] Petrol | 158 | 36D | £51,295 | Model info |
| 2.0 Turbo 280 Veloce Ti 5dr Auto Petrol | 0 | 37D | £54,035 | Model info |
| 2.9 V6 BiTurbo 510 Quadrifoglio 5dr Auto Petrol | 222 | 50D | £71,880 | Model info |
| 2.9 V6 BiTurbo 510 Quadrifoglio 5dr Auto [ACC] Petrol | 0 | 50D | £74,065 | Model info |
| 2.9 V6 BiTurbo 510 Quadrifoglio NRing 5dr Auto Petrol | 222 | 50D | £89,585 | Model info |
Alfa Romeo Branches
Alfa Romeo Aftersales