Hyundai Tucson Crossover
All-New Tucson offers bold, powerful styling that's impossible to ignore. Sharp creases, a rakish roofline and sleek alloy wheels imply movement even when stationary, while subtle curves complement its athletic silhouette. With the hexagonal front grille forming a distinctive centrepiece, flanked by imposing headlights and daytime running lights, All-New Tucson makes a statement whichever way you look at it.
Engineered and manufactured in Europe, All-New Tucson is built on a completely new platform. The latest advances in high-strength steel and noise reduction technologies have been incorporated throughout, achieving a new level of driving refinement. Selected models are available in 2-wheel drive or 4-wheel drive, with a choice of two diesel or two petrol engines. There's also a smooth-changing seven-speed dual-clutch transmission.
Hyundai Tucson Videos
All-New Hyundai Tucson Reveal Video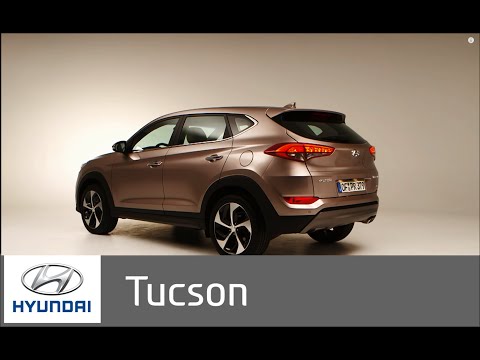 All-New Hyundai Tucson, A car so smooth you could ice a cake in it
All-New Hyundai Tucson TV Advert 2016 Hyundai UK
Hyundai TV Commercial for the All-New Tucson "Sand City"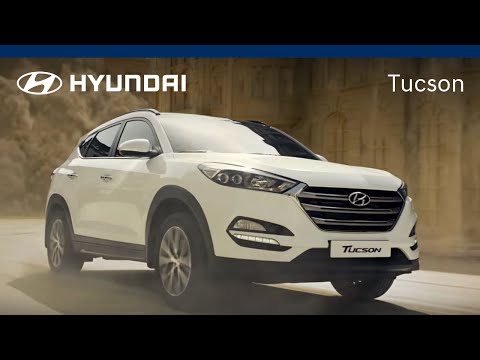 Hyundai Tucson Range & Pricelist
| | | | | |
| --- | --- | --- | --- | --- |
| Engine & Trim | CO2 Emissions g/km | Insurance Group | On The Road Price | |
| 1.6 GDi Blue Drive S 5dr 2WD Petrol | 147 | 15E | £18,995 | Model infoLatest Offers |
| 1.7 CRDi Blue Drive S 5dr 2WD Diesel | 119 | 15E | £20,495 | Model infoLatest Offers |
| 1.6 GDi Blue Drive SE 5dr 2WD Petrol | 147 | 15E | £20,995 | Model infoLatest Offers |
| 1.6 GDi Blue Drive SE Nav 5dr 2WD Petrol | 147 | 15E | £21,645 | Model infoLatest Offers |
| 1.7 CRDi Blue Drive SE 5dr 2WD Diesel | 119 | 15E | £22,345 | Model infoLatest Offers |
| 1.7 CRDi Blue Drive SE Nav 5dr 2WD Diesel | 119 | 15E | £23,145 | Model infoLatest Offers |
| 2.0 CRDi Blue Drive SE Nav 5dr 2WD Diesel | 127 | 21A | £24,545 | Model info |
| 1.7 CRDi Blue Drive SE 5dr 2WD DCT Diesel | 129 | 20A | £24,625 | Model info |
| 1.7 CRDi Blue Drive Premium 5dr 2WD Diesel | 119 | 12E | £25,395 | Model info |
| 1.7 CRDi Blue Drive SE Nav 5dr 2WD DCT Diesel | 129 | 20A | £25,425 | Model info |
| 2.0 CRDi SE Nav 5dr Diesel | 139 | 22A | £26,175 | Model info |
| 2.0 CRDi Blue Drive Premium 5dr 2WD Diesel | 127 | 18A | £26,795 | Model info |
| 1.6 T-GDi Premium 5dr Petrol | 177 | 19A | £26,950 | Model info |
| 2.0 CRDi 185 SE Nav 5dr Diesel | 154 | 25A | £27,050 | Model info |
| 2.0 CRDi SE Nav 5dr Auto Diesel | 156 | 22A | £27,530 | Model info |
| 1.7 CRDi Blue Drive Premium 5dr 2WD DCT Diesel | 129 | 16E | £27,800 | Model info |
| 2.0 CRDi 185 SE Nav 5dr Auto Diesel | 170 | 25A | £28,400 | Model info |
| 1.6 T-GDi Premium 5dr DCT Petrol | 175 | 20A | £28,400 | Model info |
| 2.0 CRDi Premium 5dr Diesel | 139 | 19A | £28,425 | Model info |
| 2.0 CRDi Blue Drive Premium SE 5dr 2WD Diesel | 127 | 19A | £28,695 | Model info |
| 1.6 T-GDi Premium SE 5dr Petrol | 177 | 19A | £28,850 | Model info |
| 2.0 CRDi 185 Premium 5dr Diesel | 154 | 22A | £29,300 | Model info |
| 1.7 CRDi Blue Drive Premium SE 5dr 2WD DCT Diesel | 129 | 18A | £29,750 | Model info |
| 2.0 CRDi Premium 5dr Auto Diesel | 156 | 19A | £29,880 | Model info |
| 2.0 CRDi Premium SE 5dr Diesel | 139 | 19A | £30,325 | Model info |
| 1.6 T-GDi Premium SE 5dr DCT Petrol | 175 | 20A | £30,350 | Model info |
| 2.0 CRDi 185 Premium 5dr Auto Diesel | 170 | 22A | £30,750 | Model info |
| 2.0 CRDi 185 Premium SE 5dr Diesel | 154 | 22A | £31,200 | Model info |
| 2.0 CRDi Premium SE 5dr Auto Diesel | 156 | 19A | £31,830 | Model info |
| 2.0 CRDi 185 Premium SE 5dr Auto Diesel | 170 | 22A | £32,700 | Model info |
Nearly New Hyundai Tucson Cars
Used Tucson Cars
Hyundai Branches
Hyundai Aftersales