Fiat 500c Convertible
True legends don't grow old: they change. Just like Fiat 500, the icon of Italian design and life style, which has been reinventing and renewing itself for almost 60 years while remaining faithful to its original spirit. Hip and cool ever since it first took to the road, today the New Fiat 500 is born again with an even bolder and captivating personality, greeting the world with a fabulous new look: an irresistibly cheeky charm guaranteed to turn heads.
The special sardine-tin folding system, which may be opened in 3 different positions, means you needn't give up precious centimetres of luggage space in the boot or the comfort of the 4 seat interior. Great, as with such a cool car you're never going to be short of friends!
Fiat 500c Videos
New Fiat 500 with 7" TFT Digital Colour Display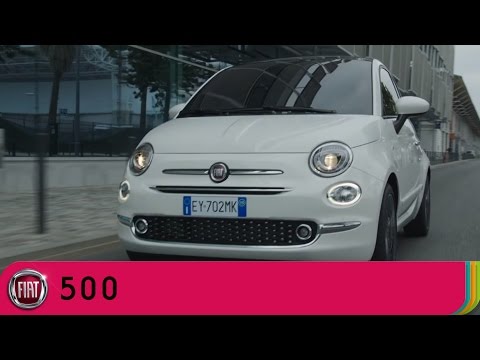 FRESH: New Fiat 500
The New FIAT 500 - The Icon Reloaded
Fiat 500c Range & Pricelist
| | | | | |
| --- | --- | --- | --- | --- |
| Engine & Trim | CO2 Emissions g/km | Insurance Group | On The Road Price | |
| 1.2 Pop 2dr Petrol | 110 | 10U | £13,700 | Model infoLatest Offers |
| 1.2 Pop Star 2dr Petrol | 110 | 11U | £14,575 | Model infoLatest Offers |
| 1.2 Pop 2dr Dualogic Petrol | 105 | 10U | £14,575 | Model infoLatest Offers |
| 1.2 Pop Star ECO 2dr Petrol | 99 | 11U | £14,675 | Model infoLatest Offers |
| 1.2 Pop Star 2dr Dualogic Petrol | 105 | 11U | £15,325 | Model infoLatest Offers |
| 1.2 Lounge 2dr Petrol | 110 | 11U | £15,450 | Model infoLatest Offers |
| 1.2 Lounge ECO 2dr Petrol | 99 | 11U | £15,550 | Model info |
| 1.2 S 2dr Petrol | 110 | 11U | £15,600 | Model infoLatest Offers |
| 0.9 TwinAir Pop Star 2dr Petrol | 90 | 14U | £15,875 | Model infoLatest Offers |
| 1.2 Lounge 2dr Dualogic Petrol | 105 | 11U | £16,200 | Model info |
| 1.2 S 2dr Dualogic Petrol | 105 | 11U | £16,350 | Model info |
| 0.9 TwinAir Pop Star 2dr Dualogic Petrol | 88 | 14U | £16,625 | Model info |
| 0.9 TwinAir Lounge 2dr Petrol | 90 | 15U | £16,750 | Model infoLatest Offers |
| 0.9 TwinAir S 2dr Petrol | 90 | 15U | £16,900 | Model info |
| 1.3 Multijet Pop Star 2dr Diesel | 89 | 16U | £16,975 | Model info |
| 0.9 TwinAir 105 Lounge 2dr Petrol | 99 | 17U | £17,230 | Model info |
| 0.9 TwinAir 105 S 2dr Petrol | 99 | 17U | £17,380 | Model info |
| 0.9 TwinAir Lounge 2dr Dualogic Petrol | 88 | 15U | £17,500 | Model info |
| 0.9 TwinAir S 2dr Dualogic Petrol | 88 | 15U | £17,704 | Model info |
| 1.3 Multijet Lounge 2dr Diesel | 89 | 16U | £17,850 | Model info |
| 1.3 Multijet S 2dr Diesel | 89 | 16U | £18,000 | Model info |
Used 500c Cars
Fiat Branches
Fiat Aftersales